Weather Condition Reporting
See live weather data from our factory!
In the UK we have a national interest in our weather! We decided to set up our own weather station so we could keep track of the conditions and we used SensorSpace® and T24 telemetry to enable this.
Located in our staff car park, we assembled a group of weather sensors which have been integrated with T24 wireless transmitters.
T24 transmitters are compatible with a variety of sensor inputs including strain bridge, 0-20mA, 0-10V, pulse and temperature. Line of sight range is 800 m (2,600 ft), therefore devices delivering to SensorSpace can be placed a considerable distance from the sensors.
The weather station is being powered by a 25 Watt solar panel and two lead acid batteries and is reporting:
Air Temperature, Barometric Pressure, Lux Level, Rainfall, Soil Dryness, Wind Direction and Wind Speed. Our wireless wind speed sensor (T24-WSS) is capturing wind speed. A weather vane which gives a 0-10 V output that corresponds to wind direction is integrated with a Mantracourt wireless telemetry voltage acquisition module (T24-VA).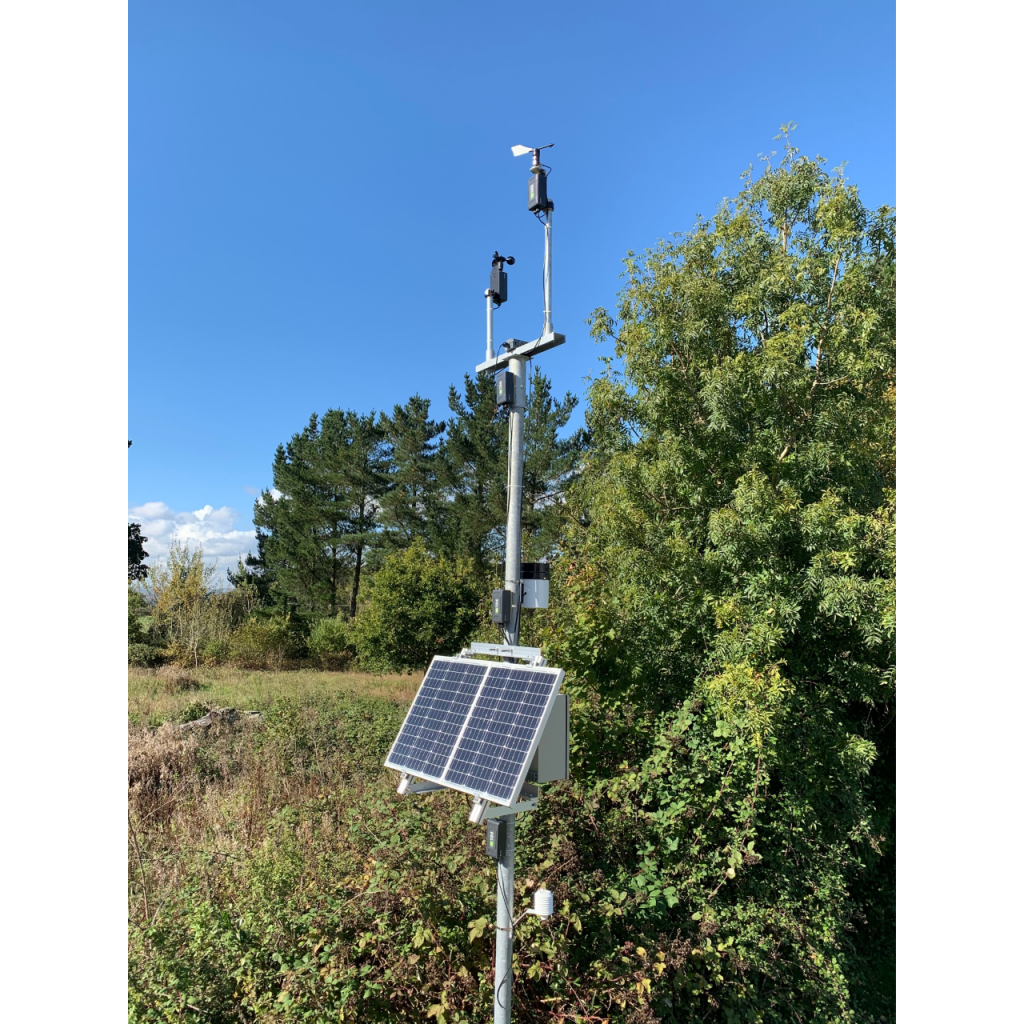 An ethernet delivery device (gateway) is located in the factory and is collecting data from T24 sensors and sending to the cloud.
The SensorSpace platform enables us to create, store and visualise the sensor data in different analysis formats.
We have created a public dashboard but have also used HTML snippets exported from SensorSpace for each device tile to embed into this web page so live readings can be viewed.
What you are viewing on this page is live data!
We are recording numerical values of air temperature, light levels, barometric pressure and soil dryness which are updating every minute. We used metric widgets in our dashboards.
We have a custom designed soil moisture sensor dug into the earth close to our weather station.
A line chart widget is correlating rainfall in (mm/h), air temperature degrees C, windspeed m/s, light levels (lux) and soil dryness. The chart records in a 1 hour  window.
| | |
| --- | --- |
| Wind speed and direction are mapped using a rose widget | A scatter widget is monitoring air pressure vs air temperature. |
| | |
SMS alerts are operating to ensure our engineers know whether to bring a jumper into work or not!
With a SensorSpace monthly plan, 3 years data storage is provided so if the project moves or if the devices are re-commissioned elsewhere, you can still access project history.* Delivery device hardware is included in the monthly plan so no upfront hardware costs.
As an OEM, we offer branded portals to create your own cloud based ecosystem.
To find out if SensorSpace can help build your business, contact us or chat live with our sales team.
*providing a monthly plan is active